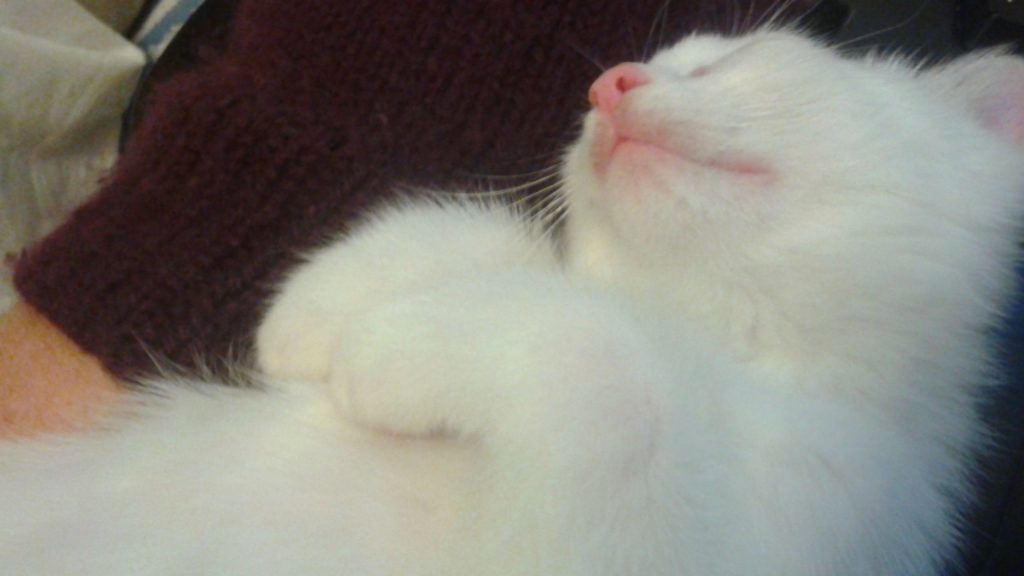 It's hard to believe it's only been two-and-a-half weeks since my husband and I brought our darling Verusha home.  She has been every bit the kitten for us: adorable, affectionate, playful, and highly skilled at finding trouble. 😉  We've been loving every minute, but her transition into our home has not been without its challenges.
One thing we were warned about the day we received her was that some cats show signs of stress when first becoming used to a new home.  These signs can take the form of various changes in habit, including changes in how the cat eats.  When we brought Verusha home, we had a bag of the food she'd been eating at her previous home all ready and waiting for her.  We set up a space for her to begin learning her new surroundings, supplied her with all her things – food, water, litter box, toys, and a place to hide out – and then proceeded to work on letting her get to know us and helping her settle in.
We noted with concern, however, that Verusha seemed to have no interest at all in her food.  Not at first, and not in the first day.  The second day we gave her some tuna, just to get some food in her belly.  She wolfed that down ravenously.  But even when we poured some of the tuna juice over her regular food, or mixed tuna in with it, that still seemed to hold no appeal for her.  We got some plain, boiled chicken, and she loved that even better than the tuna.  However, as the days passed, she would still sniff at the dry food provided to her and then turn away, leaving it untouched.
I kept thinking that eventually – sometime soon – she'd get hungry enough to return to eating normally again.  Finally, however, I decided it was time to take stronger measures to get her back to eating consistently.  I boiled up some chicken, saved the water in which I'd cooked it, and then began fixing up a combination of finely-shredded chicken mixed well with broth-soaked, smashed dry food.  (I didn't want to neglect the dry food, both because I ultimately wanted her to return to eating it and because it would provide her with a wider variety of nutrients than she'd get from a diet of chicken alone.) At last, success!  She gobbled this right up… and, indeed, if I gave her too much, she'd keep right on gobbling until she made herself sick.  So this, too, needed compensating for.  At last I settled into a routine of giving her very small portions of this mixture five or more times a day.
At some point during this process, I reflected that I never would have imagined taking so much trouble to feed a cat.  After all, I wouldn't have been allowed to be so finicky growing up! 😉  Still, as it happened, I found that I didn't mind putting in the effort if that's what it took to get my kitten to a more healthy, stable footing.
And then I thought about how her name – Verusha – means "faith."  I found myself asking how often I'm willing to put as much time and work into feeding my own faith as I was willing to put into feeding her.  So often, it seems altogether too easy to let the days slip by without seeking out the food to keep my faith healthy and let it grow.  We'd paid a price for our Verusha – one we could not afford to pay again – and we'd also come to love the sweet, affectionate kitten she'd proved to be.  For both reasons, it was more than worth going to extra lengths to help her get the food she needed while she was still learning to be comfortable in her new home.  And yet, what I receive in my faith – the life and relationship bought for me at the exceptionally high price of Jesus' blood – is certainly precious, and worthy of every effort it takes to nurture it.  It was a point worthy of thought… and of action.
But as I considered it more, I also realized that isn't where the analogy ends.  After all, when it comes to my faith, is my position not more like Verusha's?  A price was paid… but it wasn't paid by me.  I am not the source of the food that will feed my faith; I need it provided for me.  Like Verusha, the active role that really belongs to me is whether I will or will not eat what is given.  I still believe there's something valuable in realizing the depth of the importance that lies in seeing my faith, my relationship with the Lord, nourished.  But in the end, God is the One Who prepares and provides the nourishment my faith needs.
Still, there is one more thing I can learn from Verusha.  As I so often do, she was neglecting her primary food.  She needed special coaxing to take in what she needed to sustain herself.  But one thing she did do: she came to me.  I had to show her the way, but then she willingly crawled in beside me, spending the bonding time necessary for a relationship to begin forming.  It's now been long enough that I'm seeing a shift – though she still loves the treats of chicken I give her, she's also begun returning to her dry food again.  She's had time to explore, to familiarize herself with her surroundings, but I also think (or at least, I like to think ;-)) she's had time to begin to know and grow comfortable with the people caring for her.  And for those times when, like her, I'm feeling displaced and unsettled – for the times I seem to have lost all appetite for my faith's proper nourishment – I do believe she's shown me the way.  Those are the times when I need to crawl up close to my God, to draw near Him, and to find my home-comfort by learning Who He is again.  Because after all, if I am willing to take measures of patience and tenderness for my kitten, how much richer and deeper will I find the measures God has taken for me?